STEM OPT Extensions for F-1 Students
You are eligible to apply for a 24-month STEM OPT extension if:
You currently hold F-1 status;
You are participating in standard post-completion OPT;
You have a bachelor's, master's, or doctoral degree in a designated STEM field conferred by an accredited, SEVP-approved US college or university;
Your STEM OPT employer is registered in E-Verify and agrees to the USCIS STEM OPT employer reporting requirements; 
Your STEM OPT job will be

at least

20 hours per week and a paid position related to your STEM degree; and,
You will be reporting to an on-site local supervisor in the U.S. 
You can apply for an additional STEM OPT extension for a higher degree, provided you have not already used STEM OPT at a higher level than your previously earned STEM degree.
You may also apply for STEM OPT based on a previously earned STEM degree conferred by an SEVP-approved, accredited U.S. college or university within the past 10 years.  You may have earned the previous STEM degree while in a status other than F-1 such as H-4, L-2, etc.
Continued employment: As long as you apply for the extension before your standard post-completion OPT ends, you can continue working for 180 days after the original end date while the extension is pending.
When to apply:
As early as 90 days - USCIS will accept STEM OPT applications up to 90 days prior to your post-completion OPT end date.
Before your Post-completion OPT end date - USCIS will not accept STEM OPT applications after your current OPT end date.
ISSS recommends you submit your STEM OPT Extension Request e-form in ISSS Link as early as possible to allow sufficient time for you to receive your STEM OPT I-20 and submit your I-765 to USCIS before your post-completion OPT end date.
STEM OPT Application Procedures
View the STEM OPT Online Workshop:



Prepare your I-983 Training Plan and a draft of your I-765 application.
Log in to ISSS Link and complete the STEM OPT Extension Request e-form and upload your completed I-983 Training Plan. You may also upload a draft of your I-765.
Note: Your Emory NetID and password may have become inactive after graduation. To log into ISSS Link to submit the STEM Extension request, please access ISSS Link using Limited Services.  For instructions on accessing ISSS Link using Limited Services>>>
4. Receive your STEM OPT I-20. ISSS will send you a copy electronically.
Note: USCIS must receive your I-765 application for STEM OPT extension within 60 days of the date your STEM OPT I-20 was issued.
5. Prepare documents for your I-765 application.
For the online I-765, prepare digital copies of:
Signed STEM OPT I-20
Official transcript of your STEM-eligible degree
Current post-completion EAD and any previous EADs(front and back)
Institutional accreditation documentation, if applicable
Recommended but not required:
ID page of your valid passport
F-1 visa (except citizens of Canada and Bermuda)
All previous I-20s
Optional:
For the paper I-765:
6. Submit your I-765 application with STEM OPT I-20 to USCIS either online or by mail.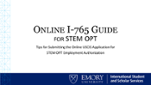 Do not submit both the online and paper I-765 applications. USCIS processing time is the same for both. 
Your I-765 application must include a copy of your STEM OPT I-20 and additional required documentation.
60 days - STEM OPT applications must be received by USCIS within 60 days of the STEM OPT recommendation in SEVIS.
The mailing address provided on your I-765 should be valid at least 4 months into the future from the date USCIS receives your I-765. Notices and your STEM OPT EAD will be mailed to that address.
Please review these reporting requirements carefully. They are not the same as the requirements for your period of standard post-completion OPT.
During your 24-month STEM OPT extension, you must report and/or submit:
Any changes to the following information within 10 calendar days by submitting the OPT Employer Information e-form in ISSS Link:

Legal name
Immigration status
Change of employer or work address (will require a new I-983 training plan)
Change of supervisor
Adding a new employer (will require a I-983 training plan for the new employer)

Any of the following within 10 business days by submitting the OPT Employer Information e-form in ISSS Link:

End of employment (voluntary or involuntary)
Any unapproved absence from work for five consecutive business days

Regular validation and evaluations of your STEM OPT employment by completing the STEM OPT Validation and Reporting e-form in ISSS Link
A revised or new I-983 whenever applicable by submitting the STEM OPT Employment Material Change Reporting e-form in ISSS Link.
Employer Noncompliance– If you believe that your STEM OPT employer is not complying with the terms and conditions of the 24-month STEM OPT extension regulations, the Form I-983 instructions, and the completed Form I-983 on file with ISSS, then you may:

Contact the Student and Exchange Visitor Program at the U.S. Immigration and Customs Enforcement (ICE) by following the instructions found on ICE.gov.
Report violations through this Homeland Security Investigations tip submission form.
The U.S. Department of Homeland Security advises that students should leave non-compliant employers and report their unemployment to their DSOs. A period of student unemployment, caused by an employer's failure to comply with program requirements, on its own will not affect your status so long as you report changes in employment status and adhere to the overall unemployment limits.
Note: Your Emory NetID and password may have become inactive after graduation. To log into ISSS Link to meet your reporting requirements and submit new requests, please access ISSS Link using Limited Services.  For instructions on accessing ISSS Link using Limited Services>>>
Your employer must report and/or submit:
Any voluntary or involuntary end to your employment within 5 business days by emailing isss@emory.edu
Any unapproved absence from work for five consecutive business days within 5 business days by emailing isss@emory.edu
If there are any changes in your employment, an amended I-983 attesting that they are offering a paid job for a minimum of 20 hours/week and that they have sufficient resources and training personnel to make this job a qualified training opportunity. They must also attest that the terms and conditions of your training (e.g. duties, wage, hours, etc.) are commensurate to similarly situated US workers and that the student will not replace full- or part-time, temporary or permanent US workers. Learn more >>