Welcome to Atlanta: Discover Atlanta & Traveling to Emory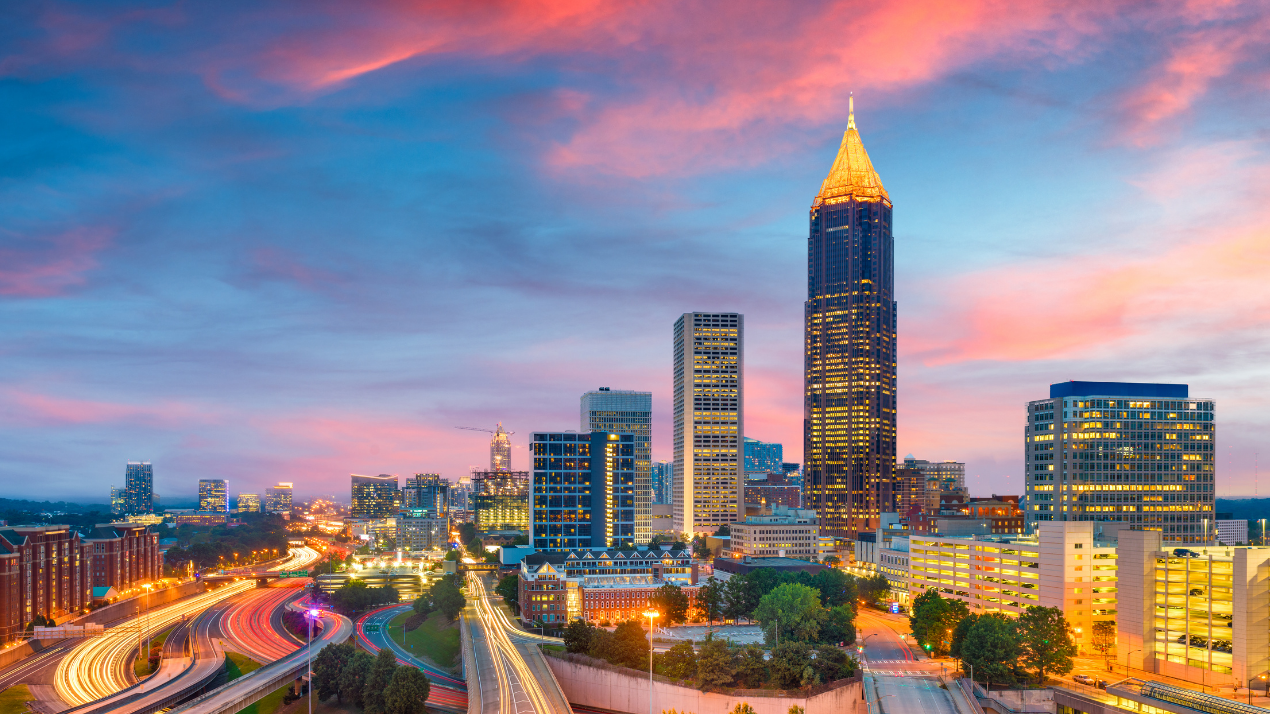 We know you are going to love your new city of Atlanta! Read on to learn about the beautiful city itself as well as what to expect when you get to the airport and how to get to campus! 
Discover Atlanta
Atlanta and the surrounding metropolitan area is home to a diverse population, delicious domestic and international cuisine, as well as plenty of attractions and events. If you have questions about specific aspects of our city or activities going on in the Atlanta area, feel free to stop by ISSS or reach out to our office.
Atlanta Tourism:
Explore Downtown Atlanta: Centennial Olympic Park, The Georgia Aquarium, The National Center for Civil and Human Rights, The World of Coca-Cola, and other attractions, Atlanta's downtown area is a fantastic place to spend a weekend and can be explored at a discount by purchasing an Atlanta City Pass.
Get to know a civil rights icon at The King Center: Honoring the legacy of civil rights leader, Dr. Martin Luther King, Jr., a visit to The King Center is a fantastic opportunity to learn about Dr. King's life and philosophy.
Climb Stone Mountain: Stone Mountain Park is a large outdoor park and recreation area surrounding a giant rock which can be climbed on foot or by cable car for a fantastic view of Atlanta's skyline at its summit. In addition to the mountain trails, the park also features a theme park, several lakes, fields, and camping areas for visitors
Walk through the High Museum of Art: Located in Midtown Atlanta, the High Museum of Art holds more than 17,000 permanent art pieces and renowned art exhibitions from around the world on a rotating basis.
Appreciate nature in the Atlanta Botanical Gardens: Known for its ever-changing displays and exhibitions, the Botanical Gardens have provided a space for the people of Atlanta to enjoy nature's beauty since 1976.
Learn about Atlanta through the Atlanta History Center: Made up of several attractions (including four houses, gardens, and various exhibitions), the Atlanta History Center is an excellent way to discover Atlanta's history and view some classic architecture.
Learn more about the diverse metropolitan city of Atlanta from our campus partners:
| | |
| --- | --- |
| Office of Undergraduate Admissions | Emory Global |
| | |
Traveling to Emory
When making your travel plans, note that you cannot enter the United States more than 30 days before the program start date on your I-20 or DS-2019. Your start date is the latest day that you can arrive. 
If you are unable to enter the US by your start date, please notify ISSS as soon as possible.
Follow the signs for Immigration, and have these documents ready to show the immigration officer:
Passport
Visa
I-20 or DS-2019
Admission letter
Financial documents
SEVIS fee receipt
The official must be satisfied that you intend to attend the school specified on the visa. If you're transferring your F or J status to Emory from another institution, you can use the student visa stamp from your previous school as long as it has not expired.
The officer will examine your I-20 or DS-2019 and record your entrance in the SEVIS system. You might be asked for documentation showing your financial support during your time at Emory (such as your award letter or bank statements). You should also be prepared to present your receipt notice of having paid the SEVIS fee. 
When the immigration officer returns your documents to you, your passport may contain an arrival stamp with the notation "F-1" or "J-1" as well as "D/S," meaning you have been admitted for the duration of your status. Please check that the stamp was annotated correctly before you leave the officer's desk. If you are not issued this stamp, do not worry, as some US ports of entry have transitionned away from stamping the passport upon entry.
Go through US customs inspection, then get on the shuttle for Baggage Claim and Ground Transportation to pick up your baggage. Shuttles arrive every 60-90 seconds.
This entire procedure can take up to 2 hours.
By rideshare: The two most popular rideshare apps in Atlanta are Uber and Lyft. Follow the airport signs for "Rideshare" and wait in the designated area after ordering a car through the app. For more information on using rideshares at Hartsfield-Jackson Atlanta International airport, visit the "Rideshare/Transportation Network Companies" section on their Ground Transportation webpage. Safety tip: Do not enter a car unless the car, license plate and driver match the details given in the app. Have the driver say your name rather than saying their name to confirm the pick-up.

By taxi: The fee for a taxi from Atlanta's airport depends on if you are traveling to an Atlanta Business District (Downtown, Buckhead or Midtown) or to a location outside of one of these districts. For fee structures and information on getting a taxi at the airport, visit the "Limousines and Taxis" section of the airport's Ground Transportation webpage.

By shuttle: Shuttle services provide transportation to and from Hartsfield-Jackson Atlanta International Airport, but you may need to make a reservation. For more information, visit the "Shared Ride Shuttles" section of the airport's Ground Transportation website.

By subway/train or bus (MARTA): There is a MARTA station inside the airport, and you can purchase a ticket at the machines by the MARTA entrance. 
For more information about using MARTA:
Plan your arrival date in Atlanta so that you will have time to:
Rest for a day or two;

Find housing and set up living arrangements;

Complete International Student Check-In (New Student Reporting e-form) in ISSS Link;

Attend the ISSS Orientation Session ("Let's Talk About Your Immigration Status");

Attend your school's orientation program; and

Register for classes.