International Student Economic Value Report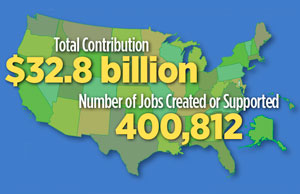 The most recent analysis from NAFSA: Association of International Educators finds that the 1,043,839 international students studying at U.S. colleges and universities contributed $32.8 billion and supported more than 400,000 jobs to the U.S. economy during the 2015-2016 academic year. The economic contributions of international students are in addition to the immeasurable academic and cultural value these students bring to our campuses and local communities.
If you would like to learn more about how international students contribute to the economy, you can fine more detailed information from NAFSA's annual state-by-state and congressional district analysis at their website.