Emory International Council (EIC)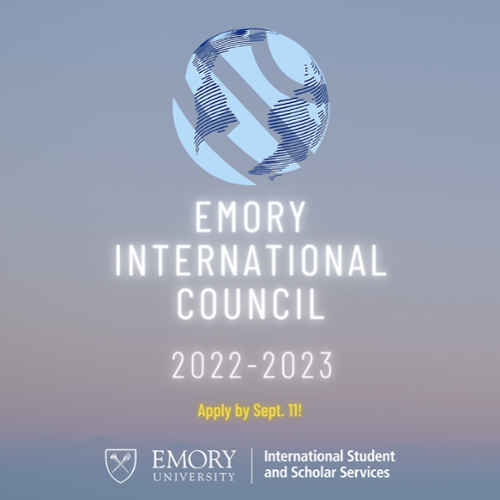 What is the EIC?
The EIC is a diverse group of selected international students from a variety of schools at Emory University. EIC members meet one to two times monthly with ISSS senior staff as representatives of international students to generate new program ideas that will support international students and foster connections between US and international students. The EIC will provide suggestions and input on ISSS programs and offer new ideas about the types of support and services that will help international students have a fulfilling and successful Emory experience. Upon successful completion of the program requirements, members will receive a certificate.
What are the benefits of being in the EIC?
Make a lasting impact as an ambassador and advocate for international students

​

Gain experience providing input and implementing change

​

Become part of a diverse team working together to make a difference

​

Meet new people from around the world and across disciplines

​

Develop professional skills in organizing, planning, and communication

​

Expand your leadership and intercultural communication skills

​

Explore your level of intercultural competency by taking and debriefing the Intercultural Development Inventory (IDI)

Build out your professional experience for your resume
What are the qualifications and expections?
Must be a full-time international student on an F-1 or J-1 visa

​ for the entire academic year


Must commit to a term length of one academic year with an option to reapply in future years

​

Must attend a leadership retreat

Must be available to meet one to two times monthly 

​

Cannot miss more than two meetings during the membership term 

​

Must assist with planning, preparing, and staffing ISSS programs and events

​

Must attend at least one ISSS event per semester and provide input